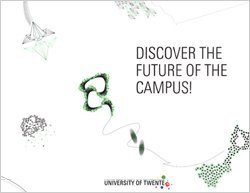 Datum en aanvang
Thursday october 27th, University of Twente

The University of Twente (UT) celebrates its Golden Jubilee with an international conference, focusing on the phenomenon of campus universities. How did they come into existence? What philosophy lies behind a campus? What role does landscaping play?

Examples drawn from across the world – including the USA, Europe and Asia – will be presented. At the centre of the day lies the future of the UT campus. The conference takes place at the UT and offers a very dynamic programme in which participants will have the opportunity to experience many locations across the UT's renowned campus, providing the time and the space for delegates to experience and reflect on the issues presented in the plenary sessions.

We are delighted to be able to present the following speakers:
- David Neuman master planner of Stanford and Virginia University
- Adriaan Geuze landscape architect and director of West 8

- Ton Schaap
 city planner of Enschede
- Paul Benneworth 
UT researcher in the field of universities and societal interaction
- Martin de Jong
 full professor Public Management (TU Delft), developing a brand new campus in Shenzhen (China).

The conference is moderated by Tracy Metz, journalist for NRC Handelsblad, publisher and expert in urban issues.

Programma 27th october
09.30 - 10.00 h welcome Tea & Coffee (with currant buns) in Spiegel (Spiegel, room 1)
10.00 - 10.10 h opening by Kees van Ast (Executive Member, University Board)
10.10 - 10.50 h lecture David Neuman: the origin of the campus
10.50 - 11.30 h lecture Adriaan Geuze: campus and landscape
11.30 - 12.00 h Campus Trail: from Spiegel – via 'university parkscape' - to Vrijhof (Agora)
12.00 - 12.45 h interview with Paul Benneworth and Ton Schaap: UT and Knowledge Park
12.45 - 13.30 h lunch and UT architecture exhibition
13.30 - 14.20 h Guided Tour into Campus Accommodation areas (Olive garden/Horst)
14.30 - 15.00 h lecture Martin de Jong: developments in China
15.00 - 15.30 h Afternoon Tea (& Coffee) in Olive Garden
15.30 - 15.45 h 
promenade to Ravelijn

15.45 - 16.45 h Panel discussion: reflections on the UT campus future
The organizing committee:
 Hilde Blank, Peter Vermeulen, Peter van Roosmalen and Peter Timmerman